Accidents and breakdowns are beyond our control – they catch us by surprise and can have a chaotic effect on our day. Select Tilt Tray provide a fast and reliable accident and breakdown towing service across Sydney.
We provide a reliable Sydney towing and breakdown service so if you're in an accident, we can be there in no time with one of our tilt trays to help you quickly move your vehicle off the road to a safe location of your choice. Our crew will even clean the accident site.
Select Tilt Tray Group have over 20 years' experience in offering a complete accident tilt tray hire service across Sydney.
Are Select Tilt Tray drivers trained in safe accident towing?
Our experienced tilt tray drivers are fully trained and licensed to appropriately remove damaged vehicles from the road and safely prepare them for transport. The safety of our drivers and everyone else on the road is our priority, particularly after an accident, and Select Tilt Tray Group's excellent safety record is a testament to this.
What's the difference between accident towing and breakdown towing?
The main difference is the licensing. Only a licensed tow truck company like Select Tilt Tray Group are authorised to tow or transport cars which have been damaged by being in an accident. In theory, anyone with a suitable vehicle is allowed to tow a car that has broken down and not been involved in a collision.
What type of tow trucks are used for accident towing?
We have an impressive range of tilt tray vehicles – you can view our fleet here – which are suitable for towing or transporting damaged cars and larger vehicles after an accident.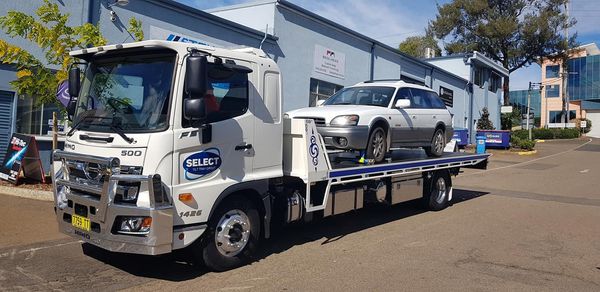 At Select Tilt Tray Group, we know that breakdowns don't only happen on weekdays or during working hours. This is why our tilt tray hire service is available 7 days a week, and we offer 24-hour emergency accident towing to a range of Sydney suburbs, including Parramatta, Newtown, Maroubra, Bondi, Brighton-Le-Sands, Castle Hill, Sutherland, Ryde, Kings Cross and Homebush, to name just a few.
Does Select Tilt Tray Group deal with insurance companies?
Our crew will always ensure that your vehicle arrives at your authorised mechanic or insurance depot on time so that there are no delays when it comes to getting your car repaired or initiating your insurance claim. If you have comprehensive car insurance, we can even bill your insurance company directly and spare you this time-consuming task.
Where can I take my car after an accident?
Select Tilt Tray Group are not just an accident towing company; we also provide a safe vehicle storage space. If you need somewhere to keep your car temporarily after an accident, our secure storage warehouse located in Kirrawee is also available for the temporary housing of written-off vehicles.
At Select Tilt Tray Group, we pride ourselves as industry leaders in accident towing. Our rates are reasonable, and we always strive to keep our customers safe and happy by offering our services in the quickest time frame, at the best possible price.
So next time you are looking for a professional, reliable and affordable tilt tray solution when an accident places you in need of a Plan B, call Select Tilt Tray Group on 02 9545 3464.
MORE ACCIDENT TOWING FAQS
We accept Visa or Mastercard as well as cash, cheque or EFT payments at the time of booking the job, or at pick up or delivery. We do not charge a credit card surcharge fee.
It depends how far you need to go, but prices generally start from $110 for a local towing job during the working week. We can give you a more accurate quote when you call us with more details.
Yes, we can take up to 2 passengers in the cabin of the truck and can drop you off with your car.
Request a quote with Sydney's most trusted car tow truck company