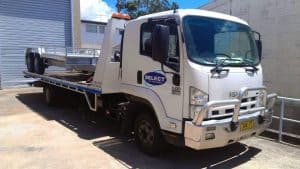 Select Tilt Tray Group Pty Ltd initially started operations in 1994 as "Select Towing Service". Since adding a second truck to our fleet in 1997, our growth has been almost unstoppable. We have since adopted an owner driver policy, therefore the driver turning up to do your job owns the truck.
The theory is that as the owner of his own business, the driver will do your job, whether its caravan towing, accident towing, long distance towing or short distance towing, properly and safely. In practice, this has proven to be so. We also offer outstanding car towing service. We still run two of our own trucks though with company drivers for those urgent jobs. Some of the drivers at Select have been known to me for up to 35 years and many who I did not know before starting with us have become more like friends than towing drivers. Between all the drivers we have more than 277 years of experience in towing!
As our business grew we were gaining people from all industries including welders, mechanics, panel shop owners, salesmen, engineers, car carrying, garbage collecting, concrete trucks and even pathology and the police force.
We are a "service first" company and will do anything we can to make the job as easy and hassle free for you, our customers. Most of our business is achieved through "word of mouth" which in my view is the best form of advertising. We currently service hundreds of regular customers and cover approximately 150 transport movements per day all over the state. Long distance towing is also catered for.
All of our trucks are late model (for reliability, comfort and appearance) and we provide full insurance towing with "on hook" insurance and public liability insurance, complying with Tow Truck Authority requirements. You can rest assured that we have the correct insurance cover in place for your goods whilst in our custody and we understand this is important to those who need high end car towing service, caravan towing, accident towing and long distance towing. Copies of insurance certificates of currency can be faxed or emailed upon request. Covered enclosed transport is also available for rare or exotic vehicle transport requirements, both locally and interstate.
All of the towing trucks are able to be operated by remote control, allowing the driver to keep a better eye on loading and unloading procedures. The drivers are all well trained in every aspect, including caravan towing, accident towing and providing excellent car towing service. From loading to different ways of securing cars and machinery, to height and weight awareness, right down to OH&S responsibilities, customer relations and road rules, we do it the right way!