Sydney's Trusted Car Towing Company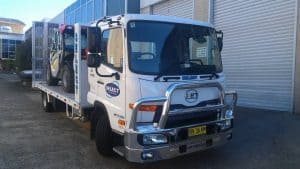 Select Tilt Tray Group Pty Ltd offers Sydney customers an all-round service, from our car towing services and accident towing, to the transport of shipping containers and industrial machinery like forklifts, tractors and access equipment on our larger trucks. Caravan towing is also one of our specialty services. Our car towing and tilt tray services are second to none and we pride ourselves on being the industry leaders that people know they can trust.
Whether you need your machinery transported across Sydney or anywhere in Australia, call us on 02 9545 3464!
We can even arrange forklift hire, scissor lift or boom lift hire. Just let us know what you need and we will arrange it.
View our vehicle fleet
TTLC LICENCE #05083
Do you need your vehicles towed or transported a short distance? No worries - we're happy to tow your vehicle to where it needs to be.
No matter where your car needs to be towed, you can count on Select Tilt Tray Group to get it there safely.
Be sure to check out our backloading section for a great rate on a truck running empty, just click on "Backloading" in the drop down box under "Towing Services" at the top of this page.  We also have our new enclosed transporter available now to transport classic, unique and expensive vehicles, both long distance or locally. Call now for a great rate!
We pride ourselves on offering exceptional towing and transportation services to customers across NSW and will aim to provide the best possible towing service to all our customers.
We always try to give you the best possible price for our towing services, phone us for a quote today.
View our testimonials